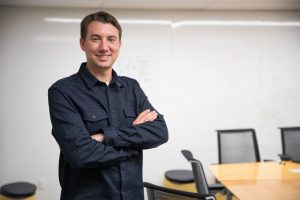 Dr. Kurt Luther is an assistant professor of computer science and, by courtesy, history at Virginia Tech. He is also a faculty affiliate of the Center for Human-Computer Interaction and the Hume Center for National Security and Technology. His research interests include human-computer interaction, crowdsourcing, and social computing.
Dr. Luther directs the Crowd Intelligence Lab, which builds and studies crowdsourcing systems that support creativity and discovery. His recent projects focus on crowd leadership, crowd-supported investigations, and crowdsourced analysis of visual material, with applications to national security, journalism, and history.
Dr. Luther has received the National Science Foundation CAREER Award (2017), the Virginia Tech College of Engineering Outstanding New Assistant Professor Award (2018), the Microsoft Cloud AI Research Challenge Grand Prize (2018), the AAAI HCOMP Best Poster/Demo Award (2018) and Notable Paper Award (2017), and the ACM CSCW Best Paper Award (2013). His lab has been funded by the NSF, the NIH, the National Archives, the NEH, and Google. His research has appeared in CNN, TIME, The Atlantic, and Harvard Business Review.
Previously, Dr. Luther was a postdoctoral fellow in the Human-Computer Interaction Institute at Carnegie Mellon University. He received his Ph.D. in human-centered computing from Georgia Tech, where he was named a James D. Foley Scholar. He received his B.S. in computer graphics technology, with a minor in art and design, from Purdue University. He also worked in the Social Computing groups at IBM Research and Microsoft Research, and on the User Experience team at YouTube/Google.
Travel & Talks