Online
Feel free to reach out to us:
Email: Dr. Kurt Luther, Lab Director
Twitter: @kurtluther
GitHub: https://github.com/crowd-lab
In Person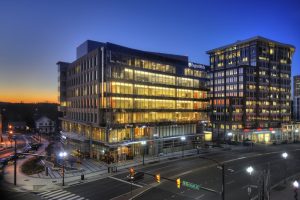 The Crowd Lab is geographically distributed across two locations in Virginia:
The Virginia Tech Research Center (900 N Glebe Rd) at VT's National Capital Region campus in Arlington, VA; and
The KnowledgeWorks II building (2202 Kraft Dr) at VT's main campus in Blacksburg, VA.
Please contact us ahead of time to arrange a tour or meeting.
Joining the Lab
We are especially interested in students with the following skill sets: web development, visual design/graphic design, qualitative and quantitative data analysis, and domain knowledge of national security, history, and/or journalism.
If you are a current Virginia Tech graduate or undergraduate student interested in working in the lab, we often have positions available for volunteering, course credit, hourly pay, and assistantships. The best time to inquire about these is several weeks before each semester starts. We also have summer internship positions available through the NSF's Research Experiences for Undergraduates (REU) program. Please contact Dr. Luther regarding the availability of student positions, and provide a copy of your resume and describe your interests in the Crowd Lab.
If you are a prospective student or a student from another university, please contact Dr. Luther to discuss possibilities. Include a copy of your resume and describe your interests in the Crowd Lab.